WORKPLACE WELLBEING
Worried about you/your employees' physical and mental health?

Looking for team building and employee engagement ideas?

Wondering how to optimize workplace productivity?
A structured approach to workplace wellbeing can significantly improve your welfare, that of your staff and boost your business.

Don't just take our word for it:
"I have seen a noticeable improvement in office morale and the office productivity… a winning outcome for all involved – both employers and staff"
1. We associate the benefits of exercise with the physical outcomes. However, the cognitive benefits are also significant:
Improved Concentration
Sharper Memory
Faster Learning
Prolonged Mental Stamina
Enhanced Creativity
Lower Stress
2. On days when employees exercised during regular work hours, their experience at work changed. They reported managing their time more effectively, being more productive, and having smoother interactions with their colleagues.
Just as Important: They went home feeling more satisfied at the end of the day.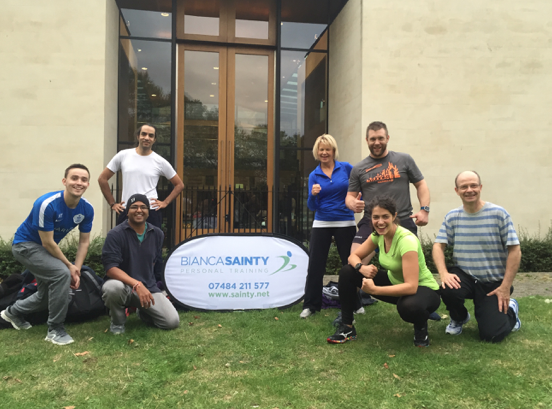 How Can Bianca Sainty Personal Training Help?
We can tailor-make a package that's right for you and your business.
Sample Packages
Premium Package (for up to 6 people)
Weekly 1 to 1 PT session for the Boss or Employee of the Week

Twice weekly Group PT Session

Monthly Seminar/Postural Assessment

Monthly Goal Check-ins
Standard Package (for up to 6 people)
"It's fun, it's challenging enough that the classroom stresses are forgotten, and the trainer makes the experience a very personal one. In addition to boosting fitness levels, it's a great team-building opportunity and there have certainly been more than a few laughs along the way."
Jessica Mair, Head Teacher, John Betts Primary School & Workplace Wellbeing Client
Contact us for more details
(Source: Leeds Metropolitan University study, citied in Harvard Business Review, Ron Friedman, 2014)